What is Kubernetes?
Kubernetes is an open-source platform used to automate deployment and to scale containers across clusters of hosts providing container-centric infrastructure.
It is a container orchestrator.
It can run a Linux container.

Launches a container
Maintains and monitors the container site
Performs container-oriented networking
Architecture/Interaction
The below image illustrates the architecture of Kubernetes. Let's have a look at it.
Key Concepts
Now, let's discuss the key points of this architecture.
Pod: Group of containers
Label: Used to identify pods
Kubelet: Container agents, responsible for maintaining the set of pods
Proxy: The load balancer for pods, helping in distributing tasks across them
Etcd: A metadata service
CAdvisor: Used for monitoring resource usage and performance
Replication controller: Manages pod replication
Scheduler: Used for pod scheduling in worker nodes
API server: Kubernetes API server
Now, let's understand the roles master and worker nodes play in the Kubernetes architecture.
Master Node
It is responsible for maintaining the desired state of the cluster we are working on.
The term 'master' indicates a set of processes that are used to manage a cluster.
It contains Kubelet service info, API, scheduler, replication controller, and Kubernetes master.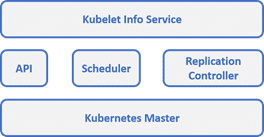 Worker Nodes/Minions
Also called a 'minion,' a worker node contains the services necessary to run the pods that are managed by the master.
Services it provides are Container Runtime, Kubelet, Kube-proxy, etc.
It contains Kubelet, cAdvisor, Services, Pods, and Containers.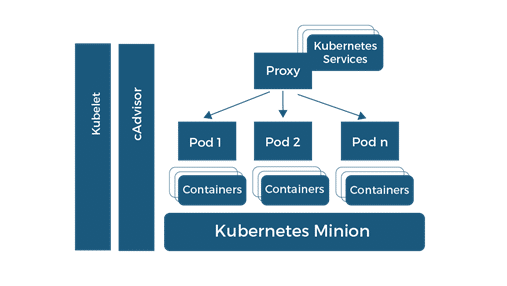 Features of Kubernetes
Automated scheduling: It provides an advanced scheduler that helps launch containers on cluster nodes.
Self-healing: Rescheduling, replacing, and restarting of dead containers are possible.
Automated rollouts and rollbacks: It supports rollback for systems in the case of failures and enables rollout and rollback for the desired state.
Horizontal scaling: It can be scaled up and down as required and can be automated with respect to the CPU usage.
Service discovery and load balancing: It uses a unique IP and DNS name for containers that helps in identifying them.